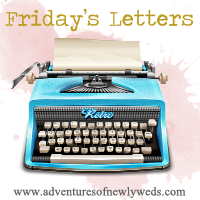 Dear Boyfriend,
I'm feeling so much love for you right now (I always do, but I'm feeling my normal amount of love x23564 right now) I love that I want to race home to see you after being at work for 10 hours. I love that you think I'm the best girlfriend ever because I eat pizza and drink Jeremiah Weed in my underwear. I love that you want to spoil me and want me to spoil myself. I love that you appreciate the things I do for you/us. Sometimes I just want to cry because I feel so much love! Ok moving on!
Dear new job,
I think I'm going to love you! After I get comfortable with you of course.
Dear cousin Sarah,
I'm so glad you moved to my town! I can't wait to see your new house and have dinner tomorrow! And I can't wait to babysit your kids!
Dear house,
Clean yourself.
Dear blog,
I'm so glad I started you! Even though most of the time I don't know what to write about and I have 0 followers. That's ok because I get enjoyment from you!
Dear Mama,
I MISS YOU!!! I hope your students aren't rotten and are well behaved and are eager for you to teach them.
Dear Jeremiah Weed,
You are making me tipsy. I'm ok with it.